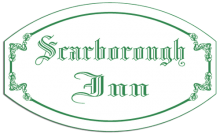 Scarborough Inn Manteo, Roanoke Island, Outer Banks
Your comfort is our concern here at the Scarborough Inn in Manteo. We offer 14 clean rooms complete with a microwave, refrigerator, coffee maker, cable TV and free WiFi for your convenience. A private bath also comes standard. Choose between double, queen and king-sized beds. Our rooms are furnished with antiques and collectibles, meaning yours will have its own unique charm.
There are many great restaurants within a few minute's drive, but exploring the local dining scene isn't the only adventure worth taking. You may want to catch a showing of The Lost Colony outdoor drama, or tour the North Carolina Aquarium in awe. There are ample recreation options too. Take an aerial tour out of the local airport, or charter a fishing trip out of one of Roanoke Island's many marinas. Or stay closer: Parasailing, kayaking and more are offered on the Manteo waterfront. Best of all, a prime seat on the beach in Nags Head is less than 10 minutes away.
Rated the best value in Manteo by multiple booking websites, the Scarborough Inn has a rich history of happy guests, and a future full of them!