First things first: Roanoke Island contains the town of Manteo as well as the village of Wanchese. Manteo is the county seat and is, more and more, a major draw for Outer Banks vacations. Wanchese is a quiet fishing village where life is centered on the commerce from the sea, not on tourism. We will mostly refer to Manteo in this guide since the majority of the visitor-oriented activity happens there.
There's no other area of the Outer Banks that can top Manteo attractions. The restored and lovely waterfront/downtown area is an attraction in itself, with the boats sitting in Shallowbag Bay and the surrounding boardwalk and all the quaint shops, galleries and eateries, but the island is also home to hugely popular Manteo attractions — Roanoke Island Festival Park, The Lost Colony, The Elizabethan Gardens, North Carolina Aquarium, Island Farm, N.C. Maritime Museum and the Roanoke Marshes Lighthouse — that you won't want to miss.
Manteo restaurants entice visitors and locals alike, and a nice feature for most guests here is that, because of the small-town essence, in Manteo you get to rub elbows with lots of residents who are happy to answer your questions or give you advice on the local scene. Even if you're not staying in Manteo for your vacation, visiting any of these restaurants is well worth the short drive. And, a local's secret is that when you have an hour or more wait at a beach restaurant, you can usually get in pretty quickly here. Manteo's restaurants run from very upper crust to sandwich shop casual, but even in the casual spots your chef is likely to be highly trained and ready to surprise you with the variety and quality of food.
Manteo Vacations
The historic district is full of restored homes, many of which form the core of Manteo accommodations. On this island, you can choose from beautiful bed & breakfast inns, nicely maintained older motels, one large hotel and an RV park. There are also several wonderful B&Bs in Wanchese. The Manteo vacation rentals scene is certainly less than that of the beach towns, but there are still options for week-long stays if you want to really settle in. And if your form of settling in means buying property here, Manteo real estate offerings range from historic homes to modern condos.
A delightful day can be spent enjoying Manteo shopping. The heart of the town on the waterfront contains lots of gift shops, clothing stores, galleries, estate jewelry, antiques shops, the best bookstore known to readerkind, coffeshops…all within a few easily walkable blocks. Then, on the main corridor, Highway 64, are a lot of necessity stores plus several local gems that draw visitors from all over the Outer Banks – The Christmas Shop and Silver Bonsai Gallery. Wanchese shopping mostly lures those who know that there's no better place to go for fresh seafood than this village where they bring it in daily straight from the boats.
Manteo things to do centers around the water, but an added bonus on this island is the focus of fun activities pertaining to history, wildlife and island culture – ever been on a wolf howling or to scout for bears? The Manteo fishing culture is alive and well. Manteo is also perfect for exploring on foot or by bicycle. A bicycle/multi-use path runs parallel to Highway 64 from the Nags Head Causeway to the North End. If you have a bicycle handy, we highly recommend using this path to explore Roanoke Island. Find somewhere to park the car (downtown Manteo or at Roanoke Island Festival Park are good places), then pedal away. The path leads all the way out to the attractions of Fort Raleigh and ends at a beautiful soundfront park. The streets of Manteo are also perfect for walking and jogging.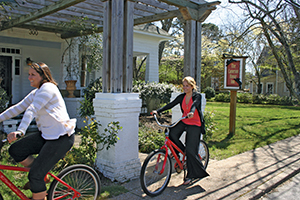 You might want to read more about Roanoke Island and Manteo's history before you come so you'll get the most out of your island experience. 
One more aspect of present-day Manteo that's worth special note is the increasing popularity of Manteo weddings. So many couples have chosen this area for their nuptials that a big (for the Outer Banks) industry has built up around supporting these destination weddings. If you're considering a Manteo wedding, we offer this important piece of advice: Plan early. The B&Bs, venues and suppliers get booked up many months in advance.