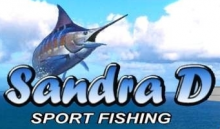 Big Game Sport Fishing in Complete Luxury!
  
Famous Oregon Inlet!

Sandra D has gained a reputation among Outer Banks charter fishing boats as being one of the highest class and most comfortable charter boats available out of Oregon Inlet. The Sandra D is a North Carolina born and incredible custom built sport fishing yacht. The boat was originally built in 2008 and received a complete rebuild in 2014.