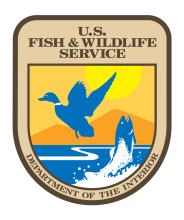 Alligator River National Wildlife Refuge was established on March 14, 1984. It contains 152,195 acres which lie on the mainland portions of Dare and Hyde Counties, North Carolina. The Refuge is roughly 28 miles from north to south and 15 miles from east to west. It is bordered on the west by the Alligator River and the Intracoastal Waterway; on the north by Albemarle Sound; on the east by Croatan and Pamlico Sounds; and on the south by Long Shoal River and corporate farmland.
Alligator River Refuge was established to preserve and protect a unique wetland habitat type - the pocosin - and its associated wildlife species. The diversity of habitat types include high and low pocosin, bogs, fresh and brackish water marshes, hardwood swamps, and Atlantic white cedar swamps. Considered among the last remaining strongholds for black bear in eastern North Carolina and on the mid-Atlantic Coast, the Refuge also provides valuable habitat for concentrations of ducks, geese, and swans; wading birds, shorebirds, American woodcock, raptors, American alligators, white-tailed deer, raccoons, rabbits, quail, river otters, red-cockaded woodpeckers, and migrating songbirds. It serves as the core area for re-establishing the red wolf back into the wild.
To learn more about Alligator National Wildlife Refuge, visit the National Wildlife Refuges Gateway Visitor Center on Roanoke Island. The visitor center offers numerous hands-on and interactive exhibits on Alligator River National Wildlife Refuge plus 10 other regional refuges and one National Fish Hatchery.  The Visitor Center is on the north end of Roanoke Island, about a quarter-mile from the entrance to Fort Raleigh National Historic Site. It's open from 9 a.m. to 4 p.m. daily, and admission is free.