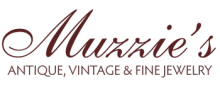 Welcome to Muzzie's Fine Jewelry in Manteo, NC
Celebrating Our 20th Year!
Muzzie's Fine Jewelry on Roanoke Island in Manteo NC is a charming shop that invites you to explore a panorama of exquisite goods! We offer an extensive collection of Outer Banks vintage, antique and estate jewelry at affordable prices. The selection includes diamonds, platinum and precious gems, as well as popular jewelry by Val Colbert and Sweet Romance, among others. Muzzie's Fine Jewelry offers the best in Outer Banks shopping for an engagement ring or cherished gift!
More Than Just Jewelry
April Cornell apparel and home decor designed specially for Muzzie's, colorful hand-hooked pillows, garden statuary and birdhouses and French linens are some of the treasures awaiting you. The wonderful fragrances of Lavender and Ocean Aire sachets will entice you. Elegant vintage lace jackets by Cheryl Long are signature one of a kind pieces. Museum quality Italian Grotto Shell Art by Mary Roberson is a must see. Muzzie's Mermaid Gallery is a customer favorite.
About Muzzie's Fine Jewelry
Since 1999, Mike and Susan Garber have offered a simple philosophy of business: Personal service, expertise and information, and a unique inventory. Muzzies motto is "If it isn't special, it isn't here". This business model has built Muzzies an extensive customer base and fostered a loyal following.
Whether you desire assistance with a purchase, choosing a gift for a loved one, buying a gift card, or you're just seeking expertise in identifying antique jewelry, we look forward to helping you.
Business Location
Muzzie's Fine Jewelry is located at 107-A Budleigh Street, in historic downtown Manteo on Roanoke Island.