The Hallie M. is a 40' custom-built fishing boat powered by a reliable Cummins diesel engine, a full electronics package and top-of-the-line safety gear and fishing equipment.
For passenger comfort, the Hallie M. offers a shaded deck area as well as a marine toilet.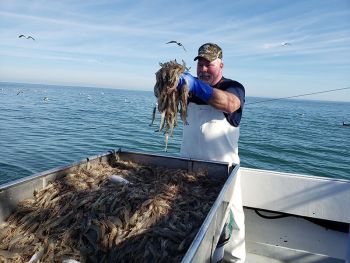 A commercial fisherman since 1980 and a USCG licensed captain since 1998, Captain Barry Sweitzer has the on-water experience to provide a safe and enjoyable charter. His experience includes fishing the waters of the Chesapeake Bay and the Outer Banks. Capt. Sweitzer operates the Hallie M as a full-time Shrimp Boat.
"I will personally guarantee that your trip will be the best experience the Hallie M can offer!"
Capt. Barry Sweitzer